Hull woman grows moustache for Movember campaign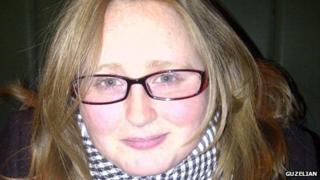 A woman is growing a moustache to raise money for the Movember charity campaign and to increase awareness of a medical condition which causes excess facial hair growth in women.
Sarah O'Neill has polycystic ovary syndrome, the symptoms of which also include weight gain.
The 29-year-old from Hull said she is "making a stand" and turning her condition into "a positive".
The money raised during Movember goes towards men's health projects.
Ms O'Neill was diagnosed with the syndrome in 2006 after many years of medical tests.
Having struggled with the side effects of the condition throughout her teens she said she had finally decided to be open about her illness.
"I've spent a lot of time trying to make my face socially acceptable", she said.
"A lot of painful hours trying to get rid of the hairs, only for them to grow back a few days later and start it all over again.
"It just wasn't feeling very good. It was like an endless task of trying to be what society expected me to be."
'Very nervous'
The Movember campaign sees people raising money through sponsorship for growing a moustache.
Last year the charity raised £27m in the UK, with most of the money going towards prostate cancer programmes.
Ms O'Neill said she was "very nervous" about the response she might get from people as her moustache grows but said she was not ashamed about it.
"It's basically making a stand and saying I can raise money for a good cause because I have something that's a part of me that most men take for granted, that they can grow a moustache, and I can raise money and I can do something good with this.
"It is about outlining the positives."