Beverley quest for 'missing' rolls of honour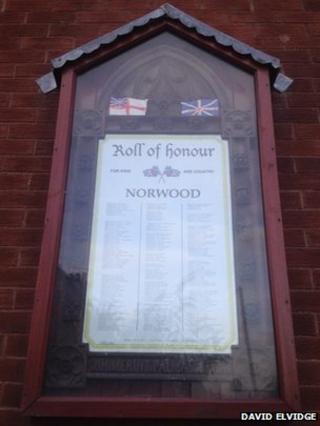 A quest to find "missing" World War One rolls of honour commemorating dead soldiers has begun in an East Yorkshire town.
There used to be about 40 of the memorials in Beverley but the whereabouts of only 29 are still known.
David Elvidge, a local councillor who is helping the project, said: "Beverley thrives on its history and we hope some information will come forward".
No missing memorials had yet been found but he was hopeful, he said.
Mr Elvidge said: "The memorials were various shapes and sizes and often placed on walls, as the buildings changed some of the rolls may have been removed or stored.
'Changed our history'
"You have to remember that in World War One it was totally impractical to bring the town's dead home and these rolls were a way of commemorating the men."
He said the 1914-18 war was "an incredible event that changed our history and no one was not touched by it".
The Beverley and Rural Community Partnership and East Riding Council have launched the project and it is hoped lottery funding may be sought to restore and reinstate the memorials.
Even if people cannot find any of the missing memorials it is hoped pictures of the missing rolls, or lists of the names on them, might be gathered.
These records could be used to provide a new, permanent reminder of the town's sacrifice, said Mr Elvidge.
The project also includes the town's civic society and the Royal British Legion.