Irene Dale killer grandson 'like Psycho's Norman Bates'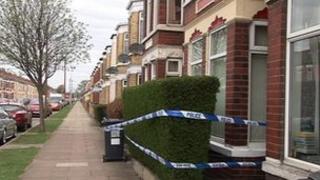 A teenager accused of killing his grandmother and seriously injuring his grandfather has been likened to Norman Bates from the Hitchcock film Psycho.
Irene Dale, 78, and her husband Allan, 80, were stabbed in bed at their home on Summergangs Road in Hull, in April.
Hull Crown Court was told there was no dispute Lewis Dale, 17, carried out the attacks with a kitchen knife, but he denies murder and attempted murder.
Prosecutors said Mr Dale was known for using the drug mephedrone, or M-Cat.
Speaking from behind a screen in court, Allan Dale said his grandson had used "the strongest knife in the block" in the attack, which was "over in seconds".
'Lunged at grandfather'
He said: "It was like that Psycho film - Norman Bates. He just came round. It was just like that Norman Bates with the knife. It was all over in seconds."
Adrian Strong, prosecuting, said: "I anticipate that Lewis Dale will tell you that at the time of the attack he was suffering a psychotic episode as a result of his drug use."
Mr Strong said the drug mephedrone had been a "legal high" but was outlawed in 2010 and is now a class B controlled drug.
He said users claimed it provoked euphoria and heightened energy, and there were reports it could also cause restlessness, anxiety, confusion and psychosis.
Mr Dale had moved in with his grandparents about 10 days before the attack after "some trouble with the police" at his father's home, the court heard.
The court heard that Mr and Mrs Dale were married for 57 years and had lived on Summergangs Road, where they had raised their children, since 1972.
The jury heard the couple went to bed at 22:30 BST on 26 April.
Around 02:00, Allan Dale returned from the bathroom to see his grandson wearing a hooded bathrobe.
"Lewis lunged at him and plunged a large kitchen knife into his chest," Mr Strong told the jury.
"It is the choice of weapon and the force used against Allan Dale that, the prosecution say, mean we can be sure this was attempted murder and that Lewis Dale intended to kill Allan."
'TV for drugs'
When Irene Dale shouted out, he broke off the attack and went round the bed to repeatedly stab his grandmother as she lay under the duvet, Mr Strong told the court.
Mrs Dale died at the scene.
Mr Strong said her husband then barricaded himself in the room and called the police. Meanwhile, the defendant took a TV from the house, which Mr Strong said he was going to exchange for M-Cat, from a drug dealer.
Armed police arrested Mr Dale in Hull city centre later that night, the court heard.
A blood test taken after his detention indicated he had taken mephedrone and cocaine.
Mr Strong said: "This wasn't psychosis. It was drug related. It was all bound up with Lewis Dale's wish and desire to obtain more drugs for himself - selfishness."
Andrew Robertson QC, defending, asked Allan Dale about his relationship with his grandson, which he said was "very good".
Mr Dale said he and his wife had played a big part in bringing him up. He said they "both thought the world of Lewis" and said he adored them too.
"I know it was Lewis but I can't understand it, why it happened," Mr Dale said.
The trial continues.