Hull church gets a set of wirelessly controlled bells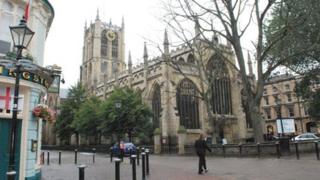 A Hull church is ringing the changes with a set of bells that can be played remotely using a wireless keyboard.
Holy Trinity Church in the city centre was gifted the 15 bells by an anonymous benefactor.
The set of bells, known as a chime, form a tuned scale allowing them to be rung in sequence to play music.
As well as being operated live via Wi-Fi , the bells can also play computer controlled tunes, with a repertoire that runs from traditional hymns and carols to pop songs.
They sit alongside the traditional rope-pulled bells in the church's 150ft (46m) high tower, replacing an 18th Century set that was removed in 1898.
Holy Trinity's organist Mark Keith said he thought the new bells added a "European" atmosphere to Hull's Old Town area.
'Giant musical instrument'
"It's an entirely different sound," he said."It is almost Continental in its feel, actually.
"If you visit the Continent you will often hear a chime playing tunes in city squares. In Britain that is not so much the case."
The church has harnessed the same computer technology used by rock bands for their live performances.
Mr Keith said it could be used to broaden access to what is in effect a "giant musical instrument."
"Without that people have to climb into the tower to be able to play it," he said.
"Whereas, with the wireless technology we can take it down into the body of the church, or indeed outside.
"So the general public can connect with something that normally there wouldn't be the opportunity to."
'Attract people's attention'
As well as playing traditional favourites, the church has teamed up with students from Withernsea High School and Roos Primary School in East Yorkshire to write new compositions.
Holy Trinity's ringing master, Robin Alden, said the bells were about attracting attention.
"I think it's a great thing for the future," he said.
"It's a way that the church can make itself heard throughout the week apart from just on Sunday as we can with the big bells.
"We can now make a noise through the week and play some tunes and attract people's attention and that's what it's all about."
An extra eight bells are being cast for installation early next year.
According to Mr Keith, when the new bells are added Holy Trinity will join York Minster as the only two UK churches to have a full set of 15 main bells and a carillon of 23 musical bells.