Humber Estuary wind turbine factory: £450m scheme approved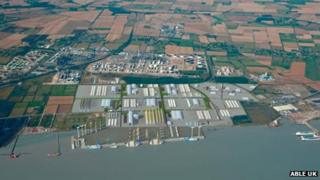 A £450m wind turbine factory on the south bank of the Humber Estuary has been approved by the government.
Developer Able UK said its marine energy park at North Killingholme would create 4,000 local jobs.
A decision on approving the scheme was delayed three times by the transport minister to allow an assessment of the development's ecological impact.
Able UK said construction work on the site would start early next year.
The Able Marine Energy Park (AMEP) is part of a larger port development which will cover 2,135 acres (864 ha) with a river frontage of two and a half miles (4 km).
Able UK executive chairman Peter Stephenson described the approval of the scheme "as massively important for the region and the whole of the UK economy".
'Massive boost'
Mr Stephenson said: "During the public hearings into our plans for AMEP, its significance was compared to the impact of the Nissan development in the North East and this is no exaggeration.
"It provides the opportunity, not available at any other UK location, to create a critical mass of activity, not only producing wind turbines and their foundations but also providing a base for offshore installation."
Conservative MP Martin Vickers, whose Cleethorpes constituency includes the site, said the announcement "was a a massive boost for the local economy."
He said: "It's further good news in terms of investment and the fact that northern Lincolnshire and the Humber region generally is recognised as a major centre for renewables."