Grimsby fish dock tourism 'could bring in millions'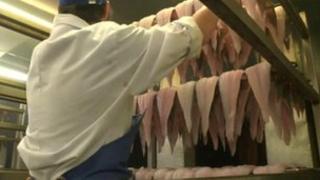 Fish producers in Grimsby have claimed the town is missing out on the chance to earn millions of pounds by becoming a destination for food tourism.
Traditional smoked fish makers said the council was failing to market the product in the same way other areas promote their specialist foods.
Grimsby smoked fish was given Protected Geographical Indication (PGI) status by the European Commission in 2009.
North East Lincolnshire Council said it was keen to support local food tourism.
Richard Enderby, chairman of the Grimsby Traditional Fish Smokers Group, said the council and Grimsby's dock owners, Associated British Ports, should renovate the area around the smoke houses as a food tourism destination, with shops, hotels and other visitor attractions.
He claimed the district, which is home to a number of listed Victorian buildings, had become "dilapidated".
'Significant trick'
"It doesn't' need a lot of money as we are up and running," he said.
"I think we are talking a few millions of pounds as opposed to tens of millions."
PGI status has been given to more that 40 food and drink products in the UK including Melton Mowbray pork pies, Cornish pasties and Wensleydale cheese.
Products registered under the scheme have legal protection against imitation throughout the European Union and must be made in a particular area.
According to the UK Protected Food Names Association, PGI products generate annual sales of around £1bn,
In north west Leicestershire, the local tourist agency promotes the region's two PGI products, pork pies and stilton cheese, as part of a food tourism industry worth more than £60m.
Matthew O'Callaghan, from the Melton Mowbray Pork Pie Association, said the council in Grimsby was "missing a significant trick" by not promoting the area.
"We are one of the 10 smallest boroughs," he said.
"Grimsby is a lot larger than us, so to that extent the opportunity to them is enormous and not just on the smoked fish but also using other seafood products."
Labour councillor Mick Burnett said he was happy to talk with the fish smokers about how the authority could help with promotion.
He said the authority wanted the "maximum amount of tourism in the borough of North East Lincolnshire" and it if could be achieved through fish processing "then we're up for it".