Humber Rescue flood response praised by Alan Johnson MP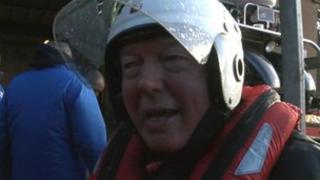 Members of a charitable lifeboat rescue service have been praised for their work during the recent flooding in East Yorkshire.
Alan Johnson MP described Humber Rescue volunteers as "remarkable", adding that he hoped to help the Hessle-based group attract more funding.
The charity was established in 1990 to provide fast-response lifeboat cover on the Humber estuary.
"They not only need our thanks but they need our support," Mr Johnson said.
"Part of the reason I'm here today is to thank them for what they did, but also to help talk about how I can help them to attract more funding.
"They rely on the generosity of the local community here in Hessle, but maybe there should be a contribution from elsewhere as well," he said.
The former health and education secretary visited the charity in the wake of flooding in the region in December.
A spokesperson for Humber Rescue said: "Mr Johnson has already agreed to meet managers from Humber Rescue to try and help with identifying funding and partnership organisations which will be an enormous help for the charity organisation."
The area covered by Humber Rescue is approximately 540 sq-miles (1,400 sq km) and includes the rivers Trent, Ouse, Hull and Humber.