Woman denies causing 'coincidental' death of sister in crash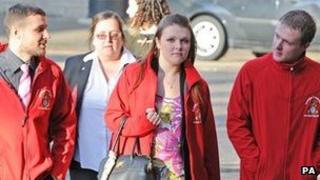 A woman has gone on trial accused of causing the death of her elder sister in a crash described as a "tragic coincidence".
Jennie Stone, 28, died when she hit a tree on the A165 near Bridlington in East Yorkshire on 18 February 2013.
Hull Crown Court heard she veered off the road when her sister Rosie-Ann Stone, 20, pulled out in front of her.
Rosie-Ann Stone denies causing death by careless driving.
The court heard the sisters were travelling in separate cars when they became stuck in a tailback behind a slow-moving lorry.
Jennie Stone, who was further back in the queue, pulled out to overtake.
But, the prosecution told the jury, moments later her younger sister pulled out in front of her without looking behind.
Prosecutor Jonathan Sharp said Jennie then lost control of her vehicle.
He told the court: "Her car veered back to the correct side of the road, in front of the lorry, and then it went off the road.
"There it ran into a tree at the roadside.
"The impact was very great and the car was badly damaged. Sadly, Jennie sustained multiple injuries and was killed."
The jury heard that witnesses saw both cars side-by-side at one point, leaving both vehicles scuffed.
'Clear view'
Mr Sharp said the sisters were travelling in separate cars "because Jennie had recently moved to Skipsea and Rosie-Ann had been helping her there".
He told the court an accident investigator determined that the defendant would have had a clear view of her sister's car, if she had looked in her mirrors.
Mr Sharp said that in police interviews, Rosie-Ann Stone "admitted she did not check over her shoulder before pulling out and had not adjusted her door mirrors ever since she bought her car a month before".
He added: "The defendant, quite simply, had not looked behind her before she began her manoeuvre."
The trial continues.