John Prescott backs Hull City's name change to Tigers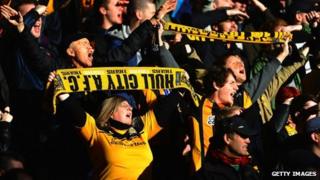 The bid by Hull City's owner to change the Premier League club's official name to Hull Tigers from next season has been supported by John Prescott.
In his closing remarks on BBC Radio 4's Today programme, the former deputy prime minister and Hull East MP exclaimed: "Go Tigers!"
Lord Prescott said club owner Assem Allam had "saved it from collapse".
Rick Skelton, a City fan, said: "We've been successful and not successful but we've always been Hull City."
'Tiger in the middle'
Egypt-born Mr Allam, who moved to Hull in 1968, took charge of the club in December 2010 and last season oversaw promotion to the top flight for only the second time in the club's 109-year history.
Lord Prescott told sports presenter Garry Richardson the issue had raised passions and spoke about a game between Hull and Rotherham in 1950 he remembered.
"Hull, led by Raich Carter, were fighting to get out of the Third Division North and they put a tiger in the middle of the centre spot," he said.
Mr Allam, 74, wants the name change to make the club appeal to a wider international audience.
Lord Prescott said: "The reality here is the commercial development, getting the money."
Heritage and traditions
Any application to alter a club's name must be approved by an FA council.
Hull City supporters opposed to the change are urging the FA to protect the heritage and traditions of the sport.
Mr Allam has said he will leave "within 24 hours" if his application to alter the name to Hull Tigers is not backed.
Mr Skelton said this was a "one-issue argument" and there was no reason for the owner to leave Hull City.
Lord Prescott also backed Mr Allam's £70m financial support of the club, saying: "That's putting your money where your mouth is."