Flood clean-up along Humber foreshore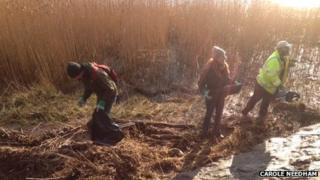 A volunteer group has cleared rubbish deposited by December's tidal surge along part of the Humber foreshore.
Organised by Friends of the Earth (FoE) to coincide with low tide, the group cleaned between Priory Way and Manor Quay near Hull, East Yorkshire.
Angela Needham, of FoE, said: "Lots of plastic, wood, bottles and cans and even part of a fridge were washed up."
High tides and strong winds caused the storm surge, flooding parts of northern Lincolnshire and East Yorkshire.
Ms Needham said the surge on 5 December had also washed up wood and brought down a tree along the foreshore.
"Although the floods washed it up, the man-made rubbish wouldn't be there if people didn't carelessly throw rubbish away," she added.
A series of clean-up operations have also been held on a storm-hit nature reserve in East Yorkshire.
Spurn Point peninsula, a Yorkshire Wildlife Trust (YWT) reserve, is still closed after being hit by the North Sea tidal surge.
.