College for green energy students to open in Scunthorpe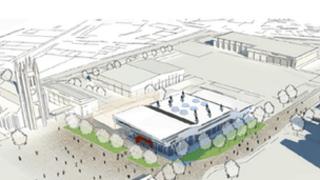 A college focusing on engineering and technology for the expanding renewables industry on the east coast is to open in North Lincolnshire.
The University Technical College at Scunthorpe is expected to open its doors to students in September 2015.
The state-funded centre is also being backed by engineering businesses in the region.
Students aged from 14 to 19, will study traditional curriculum subjects alongside engineering skills.
North Lincolnshire Council said the college, was expected to create 70 jobs including 45 teaching posts.
In December 2013 it was announced that a £450m wind turbine factory on the south bank of the Humber Estuary had been approved by the government.
Developer Able UK said its marine energy park at North Killingholme would create 4,000 local jobs.
Speaking about the technical college announcement, David Shepherd, group executive director for Able UK, said it would "give key employers the chance to take a direct approach and ensure the region's people and businesses all get what they need".
Councillor Liz Redfern who is the leader of North Lincolnshire Council, said: "In December, we received excellent news about the new Able Marine Energy Park and now we've got the go-ahead to create a modern learning centre for young people that will not only teach them the more traditional subjects, but prepare students for the world of work by specialising in engineering and renewables".