Hull to recruit 4,000 City of Culture volunteers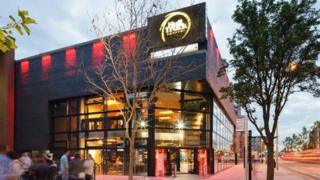 Hull is hoping to recruit 4,000 volunteers to help out with events during its year as City of Culture in 2017.
Members of the bid team have outlined some of their plans for the year at a presentation at the University of Hull.
The city won the title last November, beating off competition from Swansea, Leicester and Dundee.
Graham Chester from the bid team said the scheme was based on the "Games Makers" used at the London Olympics.
"They'll be doing all kinds of jobs," he said.
"They can be welcoming visitors, they can be ambassadors, they can help with directions and all sorts of other tasks."
Planned events include an opening ceremony featuring 3,000 people parading through the streets and specially commissioned performances at the city's art venues.
The UK government chooses a new destination every four years, with the aim of helping tourism and the economy.
Estimates by Hull City Council claim that winning the title will bring more than £60m in tourist revenue to the city.
The projected cost to the city will be £15m, paid for from a combination of public money and investment from the private sector.