Call for £200m Humber estuary flood scheme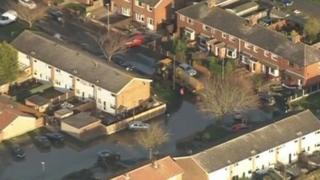 A £200m flood defence scheme along the banks of the Humber estuary would protect thousands of homes, an East Yorkshire MP has said.
David Davis, the Conservative MP for Haltemprice and Howden, is to ask the government to provide the cash for the scheme.
Mr Davis said December's tidal surge and bad weather warranted the work.
The Environment Agency's Humber spokesman said such a plan was "realistic".
During December's tidal surge along the east coast 1,100 homes were flooded around the Humber estuary and Mr Davis claimed the area was "the second-highest flood risk in the country".
'Major worry'
He added: "That [risk] is going to get worse as sea levels go up and we're going to get more and more risks like this and we've got to do something about it."
In order to try to safeguard properties the scheme would see the banks of the estuary raised to protect communities.
Mr Davis said:"If we get the whole thing done, it would dramatically change the future risk of flooding around here and take away a major worry for people who live on the north and south bank of the Humber."
Philip Winn, the Department for the Environment, Food and Rural Affairs' Humber Strategies manager said: "It [the scheme] is realistic, it's a big project we're looking forward 20 years from now.
"It's a very important area with very valuable assets so it's right to invest a large amount of money in such an important area."
A spokeswoman for Defra did not comment on the scheme envisaged for the Humber estuary, but said: "We are spending £2.4 billion on flood management and protection from coastal erosion. That is more than ever before."