East Yorkshire town Beverley gets bike hire scheme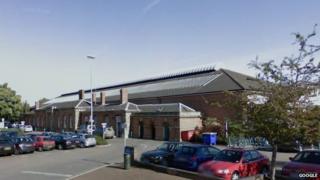 A new bike hire system has been launched at Beverley railway station as part of plans to boost cycling in the East Yorkshire town.
The scheme is one of 50 across northern England partly paid for by a £1.65m Department for Transport grant.
The project is based on a Dutch model run by train operator Northern Rail's parent company.
New cycle lanes have also been built as part of plans to improve health and encourage sustainable transport.
East Riding of Yorkshire Council said 10 bikes would be available at the station but that it would be monitoring their use and could expand the number if it proved popular.
'Exciting tourism'
Each bike is fitted with a lock as well as luggage holders and pedal operated lights.
Users pay an annual fee of £10 and can then hire a bike using a smart card for up to 72 hours.
People pay £3.80 per day to hire a bike and have to return it to the station it was taken from.
The council said it had built new cycle lanes and other facilities to help commuters and visitors explore the historic town, which is located in the Yorkshire Wolds.
Off road cycle tracks are also included in Beverley's £22m integrated transport plan.
Conservative councillor Chris Matthews, cabinet portfolio holder for infrastructure, highways and emergency planning, said: "It helps promote a number of priorities important to the council, including supporting sustainable transport, improving the health and wellbeing of residents and visitors and allowing them to explore the exciting tourism offer of the town, which in turn supports the local economy."