Blaze at Scunthorpe plastics recycling plant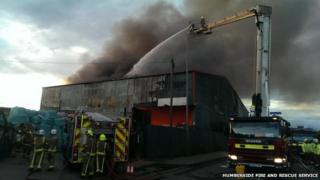 More than 20 firefighters have been tackling a blaze at a plastics recycling plant.
Humberside Fire and Rescue Service said it was called to the fire on Winterton Road in Scunthorpe just after 18:00 BST.
The service said the fire had produced heavy smoke across the area and residents had been advised to keep doors and windows closed.
A spokesman said the blaze had been brought under control.
He added: "We have advised residents in the immediate area and to the north east of Scunthorpe (Dragonby and Winterton) to remain indoors with windows closed, as there is a possibility of the smoke causing breathing difficulties."