Demolition plan for Grimsby high rise flats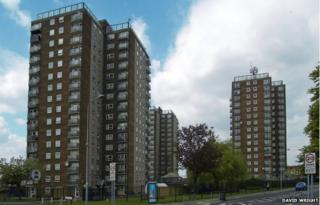 Hundreds of residents could be forced to move amid proposals to demolish six high rise blocks in Grimsby.
Shoreline Housing Partnership launched a consultation on Wednesday to knock down the East Marsh flats, affecting 700 residents.
The company said it would cost £19m to refurbish Albion House, Bevan House, Garibaldi House, Nelson House, Tennyson House and Thesiger House.
Ward councillor, Steve Beasant, said he was not told about the plans.
He told BBC Radio Humberside: "I'm very angry. Residents were ringing me up last night and I had no answers for them.
"I'm now demanding a meeting [with Shoreline]. I want to know what's going on. The official consultation period has started and we weren't informed.
"To bring this on them all of a sudden is unacceptable."
'Unpopular stock'
Shoreline said the flats, which were built in the mid-1960s, have "become increasingly unpopular and outdated".
Demolition plans also include razing two maisonette blocks at Comber Place.
Chief executive Tony Bramley said: "Put simply, the cost of keeping the blocks is significantly more than the cost of removing them.
"We can't justify spending millions on aging and unpopular stock that could be better spent improving our accommodation, providing future services and investing in new developments."
Resident John Drinkall has lived at the site for 12 years and has objected to the plans.
He said: "I'm getting on a bit and I really need a secure place. We're a good crowd here and we get on with each other.
"It's a nice place to live. I feel 100% safe here."
Shoreline said if the proposals go ahead they will help re-house residents and work with North East Lincolnshire Council on the future use of the site.
The consultation period ends on 1 August with a final decision scheduled for October.