Gaul sunken trawler: Police to visit Russia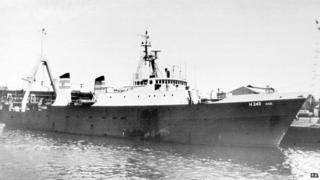 A team of police officers and scientists are to go to Russia to examine human remains that could be crew members from a sunken trawler.
The Hull-based Gaul fishing vessel went down in 1974 in the Barents Sea off Norway with the loss of 36 men.
Last year Humberside Police said authorities in Russia were trying to identify bodies found buried there.
The force said it was working with the Foreign and Commonwealth Office (FCO) to arrange an "assessment visit".
'Earliest opportunity'
A number of bodies are thought to have been found in 1974 or 1975 by people on the Rybachy peninsula in Russia, and buried under rocks there.
The FCO told Humberside Police about the discovery in September last year but said there was "nothing substantive" to link the bodies found in Russia to the Gaul.
A force spokeswoman said: "We are looking to send three police officers and a scientist on the visit and whilst no date has yet been set it is hoped it will be at the earliest opportunity.
"Jurisdiction for our visit quite rightly lies with the Russian authorities and, as such, we continue to work closely with the FCO.
"The next stage in this inquiry will very much be determined by the findings of the assessment visit."
The Marine Accident Investigation Branch carried out surveys of the Gaul after the wreck was found in 1997, and the remains of James Wales, Maurice Spurgeon, Stanley Collier and Clifford Briggs were found in 2002.
No other bodies have been recovered from the wreck.
An inquiry in 2004 concluded the ship sank because its hold became flooded during a storm.