Wellington House in Hull to be rebuilt after demolition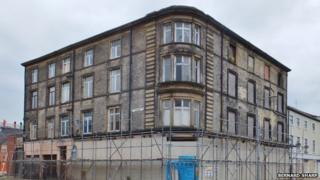 A Victorian building in Hull due to be demolished because it is unstable will be rebuilt, it has been revealed.
Hull City Council said rebuilding Wellington House would be included in the Fruit Market area regeneration programme.
The route of the Hull 10k road race was altered on Sunday after organisers were warned the building posed a risk to runners.
A date for the demolition has not yet been set.
The building, on the corner of Wellington Street and Queens Street, had been earmarked for refurbishment under a scheme to bring empty buildings back into occupation.
However the poor condition of the building meant that was not feasible, the council said.
Councillor Steven Bayes said: "The safety of residents and visitors is paramount and due to the extent of structural damage to Wellington House, we have no other option then to demolish the building.
"We will work to bring funding to rebuild Wellington House as part of the future regeneration programme, respecting the original materials, design features and scale."