Ofsted says North East Lincolnshire schools 'deserve better'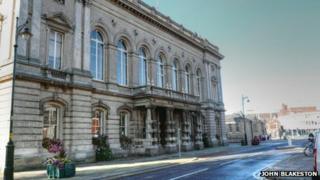 Schools and parents in North East Lincolnshire "deserve better" from the council, the school watchdog has said.
Ofsted said the schools needed "more effective support" from the local authority.
Inspections since September 2013 had shown the percentage of good and better schools was "significantly lower" than the national average, it said.
North East Lincolnshire Council's Joanne Hewson said: "We acknowledge there is work to do in some areas."
Ms Hewson said the authority would be meeting with Her Majesty's Inspectors to discuss their findings and agree how to make further improvements.
'Uneven support'
All secondary, special schools and the majority of primary schools had become academies and the role of the council had altered in terms of school improvement, the authority added.
Ofsted visited seven schools, phoned another 11 schools for a survey, and found the council offered "uneven support".
The weakest schools received attention but slightly better schools were not given "appropriate attention", it said.
Inspectors also found the local authority did not use data effectively.
Nick Hudson, of Ofsted, said: "I am concerned that the number of good and better schools in North East Lincolnshire is much lower than the national average.
"This means that many children and young people are at a disadvantage.
"We will now work with the local authority to help the schools get better."
The seven inspected were Springfield Primary School; John Whitgift Academy; Stallinborough Church of England Primary School; Scartho Junior Academy; Oasis Academy Wintringham; Weelsby Primary School (all Grimsby) and Signhills Infant Academy in Cleethorpes.