Row over Yorkshire emergency ambulance changes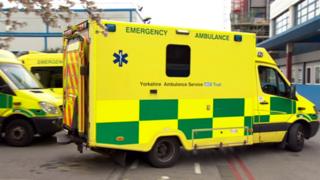 A union has accused the Yorkshire Ambulance Service (YAS) of "playing a dangerous game" by using emergency ambulances without paramedics onboard.
The service has started staffing some ambulances with Emergency Care Assistants (ECA) who only have first aid training.
Unison said it was considering holding a ballot over possible industrial action.
YAS said paramedics would still be sent to all emergencies.
Ray Gray from Unison in Hull claimed the union had only found out about the start of the new policy when it was introduced on Sunday.
"They're sending out crews that are not appropriate for the job they are turning out for," he said.
"There is a very good role for ECAs within the ambulance service, but it is not responding to 999 calls and that's what they are using them for.
"Those kind of calls should have a response from a paramedic or a technician crew not an ECA.
'First response'
Ian Brandwood from the YAS accused the union of "overreacting" and said only four of its 250 ambulances were doubled-crewed with ECA.
"This is actually a service enhancement," claimed Mr Brandwood.
"If somebody is seriously ill, particularly with a condition such as a heart attack, seconds and minutes matter.
"These Emergency Care Assistants, if they just happen to be closer than a paramedic at that moment in time, they will be dispatched to provide a first response.
"It is to deliver that initial intervention that may save someone's life, the paramedic will be right behind them."