Tophill Low Nature Reserve's water vole numbers double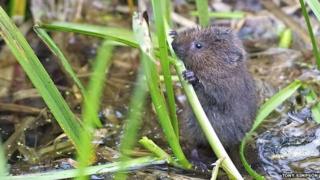 The number of water voles at an East Yorkshire nature reserve have doubled in the last two years.
Numbers at Tophill Low, near Driffield, have risen to 200 groups or families, which usually contain about six mammals.
Restoring wetlands and setting mink traps at the site have encouraged the species to "thrive", said warden Richard Hampshire.
The nationally-protected mammal is one of the UK's endangered species.
Mr Hampshire said the figures were based on counting the number of burrows at the 444 acre (180 hectare) site.
"They're absolutely thriving here," he said.
"We're really lucky here because of the volunteers maintaining habitats and trapping minks.
"Without them the species probably would've been extinct here."
In 2012, staff and volunteers at the reserve felled 600 trees to convert woodland back into a wetland and restored 4km of ditches.
Six new mink "rafts" have also been constructed to trap the water voles' main predator.