Green Port Hull wind turbine jobs 'first of many'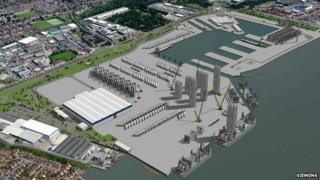 The "first of many" job vacancies on the £160m Green Port Hull project have been advertised.
Engineering giant Siemens is to build major wind turbine production and installation facilities on the banks of the Humber.
Sites at the city's Alexandra Dock and in a new blade factory in Paull, East Yorkshire are to open in 2016.
The two jobs were a "milestone", Hull City Council said. Up to 1,000 posts are eventually to be created.
The first adverts are for a personal assistant and a quantity surveyor in the planning team, Siemens said.
The company said the factories would be operational by 2016 to meet demand for large wind farms such as Dogger Bank.
Stephen Brady, leader of the council, said the jobs would be "the first of many".