Hull City fans arrested in Belgium after clashes at European tie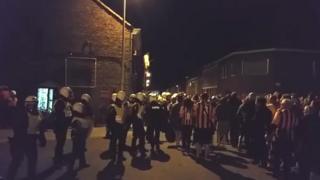 Three Hull City fans were arrested in clashes before and after their side's Europa League play-off first leg match in Belgium.
The arrests came after Hull City supporters were injured by bottles thrown at them by KSC Lokeren fans, Belgian police said.
BBC reporter Phil Norton in Lokeren said he had seen a number of supporters with cuts to their head.
Humberside Police said it was investigating with Belgian officers.
Three British and two Belgian supporters were arrested for disturbing public order and public intoxication, local police said.
Hull City supporter Matthew Rudd said the trouble after the game, which Lokeren won 1-0, began as fans were escorted by police away from the stadium.
'Raining bottles'
He said: "There was only one way out and we went past this little pub and there were loads of Lokeren fans in there and they just started hurling bottles at us.
"It was a bit of an experience to be honest and quite intimidating, really."
Craig Harper, who was at the match with his 17-year-old son, said the group of Hull City fans were met by a "cordon of riot police with water cannon pointed at us with dogs".
"It started raining bottles and glasses," he said.
"I looked round to say to my lad 'get down they're chucking stuff at us'.
His son had "blood pouring out of his head", he added.
Rudi De Clercq, of Lokeren Police Department said: " We regret that despite the efforts of both football clubs and police forces, the hard-core supporters continue to spoil the atmosphere, at the expense of both clubs and cities, but mostly at the expense of the other supporters who just want to have fun at a football match."
A total of 1,236 tickets for the match were sold to Hull City supporters.
Humberside Police said: "The disorder witnessed last night will be taken into account as the return leg approaches and we will police the match accordingly."