Kay Kendall: Blue plaque commemorates Withernsea actress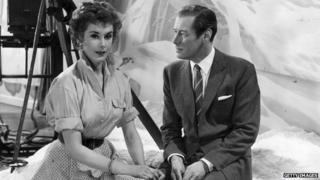 A blue plaque commemorating film star Kay Kendall has been unveiled at her birthplace in East Yorkshire to mark the anniversary of her death.
Kendall, who starred in films including Genevieve and Doctor in the House, died of leukaemia in 1959, aged 32.
The plaque, at her former home in Hull Road, Withernsea, was unveiled by her older sister Kim Campbell.
Kendall married British actor Rex Harrison in 1957 after they met while filming The Constant Husband in 1955.
The unveiling was organised by The Music Hall Guild of Great Britain and America and The Theatre and Film Guild of Great Britain and America.
Tony Simpson, manager of Withernsea Lighthouse, which houses a Kay Kendall museum, said: "I think it is very important for Withernsea that we have this plaque.
"Kay was quite a remarkable woman. She was a very popular film actress both in the UK and the US.
"The plaque commemorates her life. It tells everybody that she was born in Withernsea and that she was brought up here."