Hornsea house dogs blaze deaths not suspicious, police say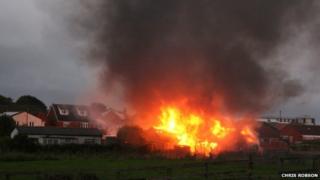 The cause of a house fire in East Yorkshire that killed 22 dogs in their cages, was not suspicious, police said.
The Staffordshire bull terriers were owned by breeders Steve and Amanda Hart who returned to their home in Graingers Road, Hornsea, to find it on fire with the dogs inside.
The animals were in cages and unable to escape from the blaze, which started just before 19:00 BST on Saturday.
Humberside Police said it was not treating the fire as suspicious.
No people were in the house at the time of the fire, which had completely "destroyed the timber-framed" detached, single-storey building, the service said.
It took 18 firefighters to control the blaze and stop it spreading.
Firefighter Paul Clucas said the owner of the home turned up when the property was already well alight and had to be stopped from trying to get into the house.
Nothing could be done to save the dogs, he said.
Alan Gregson, an eyewitness who owns a nearby holiday home, said: "It was a really bad fire with loads of flames and smoke.
"It's sad that animals have died."