Bridlington taxi driver witnessed masonry crush death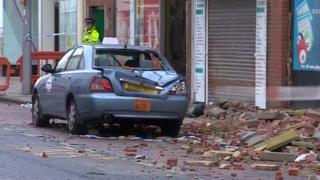 A taxi driver who witnessed a man crushed to death when masonry fell from a building in East Yorkshire said the experience was "terrifying".
A 61-year-old pedestrian died when he was hit by masonry near Pleasureland, on Cliff Street, Bridlington, at about 13:00 BST on Monday.
Neil Dean was waiting for a passenger as the rubble landed on his vehicle.
There were strong winds at the time, but it is not yet known whether that was the cause of the accident.
Mr Dean described the moment he witnessed the masonry falling from a building.
"I just pulled up at the taxi rank and was doing some work in my car when it happened.
"It [the masonry] fell from an amusement arcade on top of us.
"It was like somebody had just dropped something out of the blue. There was no warning, no nothing.
"Then I just saw this man fall down beside me. The man was just walking past.
"I could see the bloke was dead. There was no way he could have survived that at all.
"It was awful, absolutely awful. I was very, very lucky to be alive."
The taxi driver said debris smashed the rear window, the boot and side of the vehicle.
An investigation is under way to establish the cause behind the masonry falling.
The local authority said it was assessing the privately owned building.
Police said Cliff Street remained closed and road closures were still in place.
According to the Met Office, a strong gale, with gusts of up to 48mph, was recorded in Bridlington at the time of the incident.
A post-mortem examination is due to take place on Wednesday. The pedestrian is yet to be formally identified.