Northern Lincolnshire and Goole NHS Trust agrees baby brain damage payout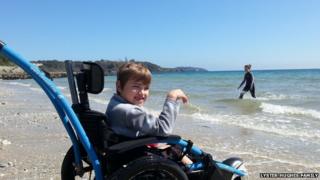 A hospital trust has agreed a multi-million pound payout after admitting mistakes which caused a baby to be born with brain damage.
Pregnant Caroline Lyster was treated at Diana Princess of Wales Hospital in Grimsby for an infection, but discharged after a day.
She was re-admitted four days later when tests showed she had e-coli, but her son had already been infected.
The Trust which runs the hospital said it "regretted the lapse in standards".
'Relieved'
Cody Lyster-Hughes, now nine, was born seven weeks premature in 2005 and has cerebral palsy. He is wheelchair-bound, has limited speech and requires 24-hour care.
Northern Lincolnshire and Goole NHS Foundation Trust has agreed a payment of up to £6.5m, comprising a £2.75 lump sum and care costs for the rest of Cody's life. It admitted liability during antenatal care.
Ms Lyster was treated with antibiotics and steroids for the infection when she was seven-and-a-half months pregnant and sent home before a pathology report was produced.
In a statement, the family's legal team said: "In fact tests showed that she had e-coli. The bacteria could have been killed by further treatment but by the time she was re-admitted to hospital four days later the infection had already passed to the foetus."
Cody's father, Carl Hughes, said: "We are relieved that we can put this behind us and get on with our lives. Of course Cody's life and his future have been devastated by this and no settlement can change that.
"But at least we can make sure he has every possible chance of leading as fulfilling a life as possible."
The family, originally from Louth, also received a full apology from the Trust.
Wendy Booth, from the Trust, said: "The Trust regrets the lapse in standards which led to Cody suffering this injury and wishes Cody and his family well for the future."