Beverley church traffic cone attack causes £1,000 of damage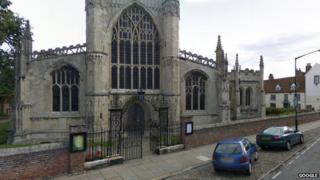 A traffic cone was hurled at the window of an East Yorkshire church causing an estimated £1,000 worth of damage.
St Mary's Church in Beverley was built in the 12th century and is grade one listed.
Humberside Police said the sign was thrown at the front of the building on North Bar Within.
They have just released details of the incident, which happened sometime between 16:00 on Thursday and 08:00 on Friday.