Humber Estuary port development backed by MPs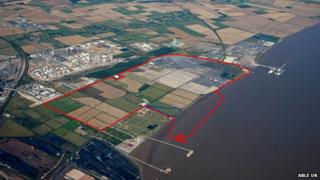 Objections to plans for a £450m wind turbine factory have been rejected by a parliamentary committee.
Plans for the Able Marine Energy Park (AMEP), on the south bank of the Humber Estuary, were approved in December by the transport secretary.
It involves the compulsory purchase of land owned by Associated British Ports (ABP), which objected to the scheme.
However, its concerns were rejected by a joint committee which upheld the decision to grant planning permission.
Executive chairman of Able UK Peter Stephenson, said: "It is brilliant news for our company, for the region, the UK - and the job opportunities that it will create."
He added he hoped ABP would now "step back" from any further action.
ABP's objections centred on its plans for a deep water jetty on part of the same site and said it believed a compromise would have enabled both plans to move forward.
In a statement, the company said it was "disappointed" by the decision of the joint committee.
"The decision has no impact on ABP's view of the strength of its case and our offer of a substantial compromise would have enabled AMEP to proceed without hindering the future development of the Port of Immingham," it said.
"We will now consider our options."
Preparation work for the marine energy park, which is expected to create 4,100 jobs, has already begun and is supported by a £15m government grant.