Scunthorpe's new out-of-town shopping centre opens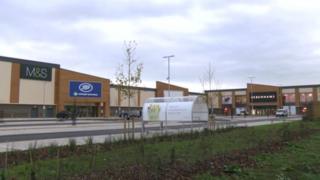 A controversial out-of-town shopping centre in Scunthorpe has opened its doors to the public.
The council claims the £20m North Lincolnshire Shopping Park, on Doncaster Road, has created about 300 jobs and will deliver economic growth.
But a group of local traders said the retail park would be "bad for businesses" in the town centre.
One trader said "footfall in the town centre was dropping and will continue to drop".
Retailer Matthew Stevens, who owns a business in Scunthorpe, said: "It's not going to help businesses in the town centre... [the retail park is] certainly going to have a big detrimental effect."
The owners of a shopping complex in the town centre took court action to stop the development being built but last year a judge refused their appeal.