East Yorkshire lagoons plan to reduce flood risk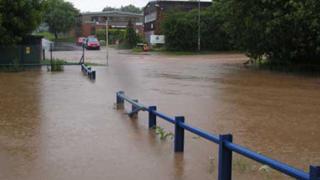 A series of lagoons are to be built as part of a £14m flood prevention scheme on the western outskirts of Hull.
Work will start later this month on a series of excavation works that would be able to hold up to 232,000 cubic metres of water.
The lagoons would trap rainwater running towards Hull from the Yorkshire Wolds. The stored water would then be gradually released.
The area was hit by major flooding in July 2007.
East Riding of Yorkshire Council and Hull City Council are working on the project, which has been funded by a grant from the European Regional Development Fund and the Flood Defence Grant in Aid scheme.
Stephen Parnaby, Conservative leader of East Riding of Yorkshire Council, said: "This is a major milestone in this important flood alleviation scheme which, when complete, will help reduce the risk of the kind of widespread flooding we saw in 2007."
The lagoons will form the second part of the flood defence scheme, which is designed to protect 8,000 homes.
Previous work included an upgrade to the areas drainage system, with larger pipe work and gullies.