Rape accused detective Colin Andrews breaks down in court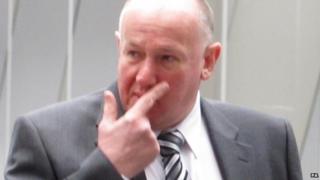 A senior detective with Humberside Police accused of raping a woman after a Christmas party broke down in court as he was questioned about his career.
Former Det Ch Supt Colin Andrews, 58, allegedly carried out the rape in a hotel room in December 2003.
He denies seven charges including rape, stalking and harassment.
Manchester Crown Court was told how he was the force's most decorated officer and was described as "loyal and dedicated" by a former colleague.
Opening the first day of the defence, Mr Andrews' barrister, Tanya Griffiths QC, asked about his career.
He said he was told early in his career that it would not be possible for him to rise to the top of the police because "he didn't fit the mould, he was rough", the jury heard.
When asked how this made him feel, he broke down and cried.
Career 'ruined'
The court heard he became concerned about the investigation conducted by Humberside Police into the allegations made against him.
He described the investigation as "biased, not balanced" and criticised Det Ch Insp Mark Oliver, who first investigated the case before another force took over.
He said his arrest was designed to ruin his career.
"My faith has been shaken by the way I have been dealt with", he said.
The court also heard from former Assistant Chief Constable Stuart Donald, who said he had known Mr Andrews for nearly 25 years.
Mr Donald said Mr Andrews was "loyal, dedicated" and that he had never known him to lose his temper or be violent.
Since the start of the trial, the court has heard Mr Andrews described as "controlling, manipulative and bullying".
The jury has been told the defendant held his hand over the woman's mouth while he raped her.
Mr Andrews also denies two counts of common assault, assault occasioning actual bodily harm and witness intimidation.
The trial continues.