Immingham Tesco store decision 'a disgrace'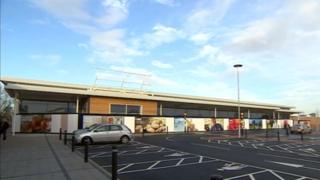 Tesco's decision to mothball a newly-built store in Immingham is "a disgrace", the town's mayor has said.
The store, which would have created up to 200 jobs, is one of 49 planned new store developments shelved by the retail giant on Thursday.
Mayor of Immingham Malcolm Cullum said: "To leave... a very nice building just boarded up is a disgrace."
Tesco chief executive Dave Lewis said the decision to put the store on ice had been made with a "heavy heart".
'So annoyed'
The supermarket was built at the Kennedy Way shopping centre on the site of the town's former leisure centre.
Mr Cullum said: "We are so annoyed with Tesco and their attitude to both people who want jobs but also the townsfolk, in not only Immingham but many towns as well."
However, he said he was "optimistic" of finding an alternative tenant for the site.
The move by Tesco to shelve plans for 49 new large stores was accompanied by confirmation that 43 existing sites across the UK will also close.
In total, the scrapped developments equate to more than two million square feet of retail space - although Tesco has not yet released an official list of all the sites affected.
It comes after two years of troubles at the group, which has suffered falling sales and profit warnings.