Rape accused detective Colin Andrews 'never forced himself on anyone'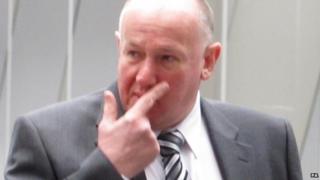 A senior detective accused of raping a woman after a Christmas party has said in court he "never forced myself on anyone".
Former Humberside Police Det Ch Supt Colin Andrews allegedly carried out the rape in a hotel room in December 2003.
The 58-year-old pleads not guilty to seven charges including rape, stalking and harassment.
Manchester Crown Court heard he denied putting his hand over the mouth of a woman while he raped her.
Cross-examining Mr Andrews, prosecutor Owen Edwards said to him: "You wanted sex whether she wanted it or not."
The father-of-one replied: "No. that's not me."
Mr Edwards then asked: "You got on top of her didn't you?"
"No, there was no sex at all, of that I am certain. No sex that night, absolute fact," replied Mr Andrews.
'Did not rape her'
Mr Edwards said: "When she screamed you put your hand on her mouth and had sex with her. Is that rape?"
"I would say so but that is not what happened. I did not rape her, that did not happen," replied Mr Andrews.
"I have never put my hand on any female's mouth ever during sex.
"Whatever she's describing, I never had sex with her. I never attempted to have sex with her. I have never forced myself on anyone, I would never do that."
Since the start of the trial, the court has heard Mr Andrews described as "controlling, manipulative and bullying".
The jury has been told the defendant held his hand over the woman's mouth while he raped her.
They also heard accusations of him pursuing a campaign of stalking and harassment against another woman in the summer of 2013, during which he sent thousands of text messages and emails.
Giving evidence in his defence on Thursday, the former detective broke down in court as he told the jury about his early police career.
The court also heard how he was the force's most decorated officer and was described as "loyal and dedicated" by a former colleague.
Mr Andrews also denies two counts of common assault, assault occasioning actual bodily harm and witness intimidation.
The trial continues.