Morrisons to reopen Kerry Foods Grimsby fish factory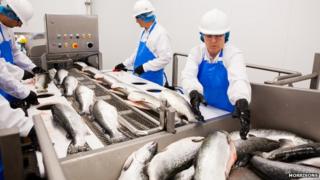 The Morrisons supermarket chain could create up to 200 jobs by reopening the former site of a frozen food factory.
The former Kerry Foods factory in Grimsby, North East Lincolnshire, closed in 2012 with the loss of 337 jobs.
The Bradford-based supermarket said its new factory would open by the end of the year.
The company already produces 250 tonnes of fish in the town and the new site would double its processing capacity.
The factory is to house new packing, chilling and filleting divisions.
Mark Harrison, of Morrisons, said the expansion was due to growing demand for fresh fish and it would be able to supply "a wider product range".
The company said it could not yet be exact about the number of new jobs to be created, but it employs 250 people at its existing Grimsby site.
The food retailer has more than 500 stores and 130 local shops in the UK.
Chief executive Dalton Philips is to leave the troubled company in March after five years in charge, it was announced recently.