Hull memorial day for city's lost trawlermen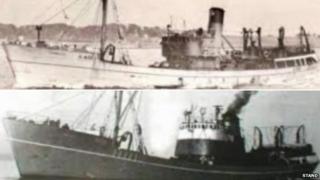 Hundreds of people have attended an annual memorial service in Hull for more than 6,000 trawlermen from the city who have been lost at sea.
The 26th annual Lost Trawlermen's Day service was held at 12:00 GMT on St Andrew's Quay retail park, close to the Humber.
The day is always held in January or February, when many trawlers were lost.
This year remembered 40 men killed in one day, when the Lorella and Roderigo capsized off Iceland 60 years ago.
Both trawlers were lost, with all hands, in appalling weather with hurricane-force winds and blizzards on January 26, 1955.
'Standing together'
Commander David Dickens, of the Fishermen's Mission, gave an address at the memorial.
The charity gives support and care to fishermen and their families.
Tracey Stephens, who is the charity's officer in Hull, lost her uncle when the trawler Gaul went down in 1974, in the Barents Sea off Norway, with all 36 men on board.
She said: "For me that standing together unites us, it is important to put a day aside to remember."
The event organised by the STAND fishing heritage charity was designed to maintain Hull's fishing port heritage and remember the men who worked in such a dangerous occupation.