Vicar Phil Lamb becomes Hull FC's first poet laureate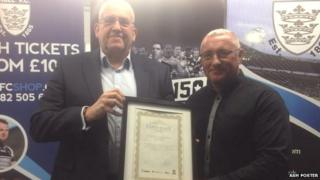 A vicar has been named the first "poet laureate" of Hull FC to commemorate 150 years since the club's foundation.
Phil Lamb beat four other finalists at the Central Library in Hull. All five read their own poetry inspired by the East Yorkshire rugby league club.
He was awarded his title by playwright John Godber, as chairman of the judges.
Mr Lamb said: "I'll have to have a word with the Bishop of Hull now when he comes and tell him I might be a bit busy."
"I'm actually really shocked because I never win anything," he added.
'Wider world'
Bafta-winning Godber, who has worked with Hull Truck Theatre and written an acclaimed rugby league play Up 'n' Under, said: "Rugby league is absolutely engrained into this city's culture and it is important that people know that just because we have been awarded the City of Culture for 2017, that this city has always been rich in culture.
"We came to the decision that Phil was to be the winner because we felt in order to be taken seriously by the wider world outside of rugby league Phil's work would stand out in that arena."
Mr Lamb is to contribute writing and poetry for events and publications as well as representing the club across the city.
A year-long celebration is to take place during 2015 as one of the oldest rugby league clubs commemorates its anniversary.
Hull FC was formed in 1865 by a group of ex-public schoolboys.
It became a founder member of the Northern Union, as rugby league was then known, in 1895 as one of 22 clubs to bring the new code into being.