Bei Carter murder accused John Heald 'sent text message about killing'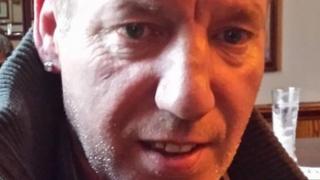 A man accused of murdering a hotelier sent a text message to a friend saying he had killed a woman, a court has been told.
John Heald, 53, of Foljambe Road, Rotherham, is charged with the murder of 49-year-old Bei Carter in Bridlington on 18 July.
Mr Heald denies murder, but accepts he was responsible for Mrs Carter's death which he says was an accident.
He also denies three allegations of rape in Sheffield on 13 July.
The jury at Hull Crown Court was told John Ward was a friend of the defendant.
'Bloody hands'
In evidence, Mr Ward said he had received the text message on the evening of 18 July.
In it he said Mr Heald claimed he had killed a woman but he had not believed him at the time.
Earlier a forensic pathologist, Dr Richard Shepherd, told the jury Mrs Carter had died from a single stab wound to the centre of her chest.
Mrs Carter was found dead in a room at the Morayland Guest House by her husband Terrence.
On Thursday the court was read a statement by Mr Carter.
In it he described finding his wife's body: "She was lying perfectly on her back. Her hands were folded on her chest and looked bloody. I wondered why?
"Her eyes were open. I knew she was dead at that point."
The trial continues.