University of Hull student flats plan conditionally approved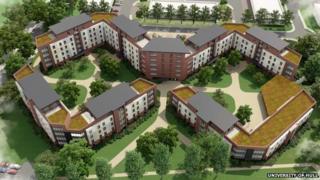 Plans for a £30m, 562-bed student accommodation development at the University of Hull have been approved in principle by the city council
The site of the six proposed residential buildings is a grassed area on the university campus, near Inglemire Lane and next to Newlands Science Park.
The blocks would be up to seven storeys high, each with a central courtyard.
Hull City Council said the scheme was recommended for conditional approval.
The authority explained it had been given backing as it would be a "sustainable form of development, providing students with a place to live in close proximity to their place of study".
The accommodation would be for first-year undergraduate students and replace Needler Hall residence in Cottingham, the university said.
Trudi Vout, of the university said: "The project is one of several significant investments being undertaken at the university. It comes less than a year after the completion of the £27m Brynmor Jones Library redevelopment, and the renovation of Middleton Hall is also currently under way."
Facilities for the student buildings include a laundry and a coffee shop, according to the planning application.
The bedrooms would be divided into flats with one, four, seven or eight bedrooms and a "communal social hub".