Ex-rugby league star Gareth Raynor found not guilty of rape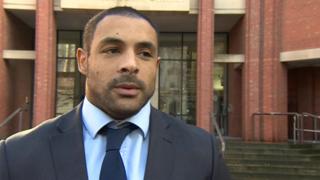 Former Great Britain and Hull FC rugby league player Gareth Raynor has been found not guilty of rape and a separate charge of wounding.
A jury at Hull Crown Court cleared Mr Raynor, 36, of raping a woman at a New Year's party in 2006.
He was also cleared of unlawfully wounding the same woman with a knife in April 2000.
Mr Raynor played for Hull FC between 2001 and 2009 and won the Challenge Cup with the club in 2005.
The jury of eight men and four women took just over an hour to acquit him.
After leaving court Mr Raynor said he was relieved the trial was over.
"My emotions are pretty high right now," he said. "It's been a tough 12 months."
"I'm going to concentrate on my business and getting my life back together, as this has kind of torn it apart a little bit."