Able Marine Energy Park: ABP drops legal challenge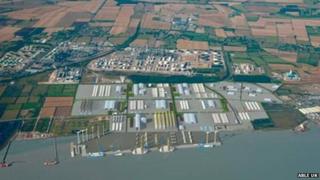 Plans for a £400m industrial site for wind turbine factories and renewable energy businesses have taken a step forward after port owners ended a long running battle over an area of land.
Associated British Ports (ABP) said it had withdrawn its challenge over the planning approval for Able UK's Marine Energy Park near Immingham.
The decision will allow Able UK to compulsory purchase some of ABP's land.
Able UK said it hoped the site would be fully operational by 2018.
Last week the High Court rejected ABP's application for a judicial review of the government's planning consent.
In a statement, John Fitzgerald, ABP's port director for Grimsby and Immingham, said: "From the outset of the application procedure ABP has not opposed the development of the AMEP offshore wind manufacturing project but has consistently objected to Able UK's proposed seizure of ABP's riverside development land at the Port of Immingham.
"We are clearly disappointed not to have convinced Able UK that a compromise could deliver the best outcome for the Humber region," he added.
'Failed to convince'
Able UK's executive chairman Peter Stephenson welcomed ABP's decision, but said the port owners had "been unable to convince Able of the merits of its case".
He said: "...the reality is that its arguments have failed to convince the hugely detailed and lengthy planning process, overseen by senior planning inspectors, a government minister, a joint parliamentary committee, and finally the High Court.
"It has not been a case of us seeking the 'seizure' of the small area of land needed for our development, but the decision, again by the planning inspectorate, the secretary of state, a joint parliamentary committee, and the High Court, that the legal process of compulsory acquisition was both proper and justified."
Able UK said construction work on a new quay would start June next year.
The energy park, which it is claimed will create more than 4,000 jobs, had been approved by the government in December 2013.