Teen pilot overturned plane after bird strike at Full Sutton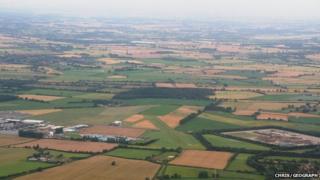 A man was seriously injured when a plane piloted by a 19-year-old overturned on landing in East Yorkshire after hitting a flock of birds.
A newly published accident report said the pilot of the Piper Cherokee aircraft had to decide quickly whether to carry on with the landing on a grass runway at Full Sutton Airfield.
The aircraft overran the runway, went on to unprepared ground and overturned.
The pilot and two passengers were able to get out, but one was seriously hurt.
The Air Accidents Investigation Branch (AAIB) report describes an incident in the early afternoon of October 20 last year.
With the aircraft descending to about 100 to 150ft, the birds rose from the runway and into the aircraft's path.
The aircraft, flying from Wellesbourne Mountford Airfield in the Warwickshire, struck at least two birds, with one hitting the propeller, leaving remains on the windscreen on the passenger side.
The report said: "The relatively inexperienced pilot was faced with a critical situation just before landing and had to decide quickly between continuing to a landing some way up the runway or to go-around and make a further approach with the full landing distance available."