Thief waved blood-filled needle at East Yorkshire supermarket staff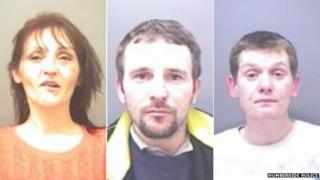 A woman waved a blood-filled needle at supermarket staff while shouting she was HIV positive, before stealing a trolley full of goods worth £500.
Billy Jo Kelly, 35, of Grasby Road, Hull, was jailed for 26 weeks after the theft at the supermarket in Willerby.
She fled the scene in a car with co-defendants Mark Kelly and Michael Melville at speeds over 60mph.
Mark Kelly, 35, of Washington Street and Melville, 45, of Normanton Rise were also jailed.
PC Andy White, of Humberside Police, said: "The staff of the supermarket were very shaken by the incident, which was particularly nasty."
Billy Jo Kelly appeared at Beverley Magistrates' Court on Wednesday and admitted a string of offences including theft and fraud.
Mark Kelly was jailed for 46 weeks after pleading guilty to a number of thefts and breach of a suspended sentence.
Melville, who drove the getaway car on Saturday 7 February, was jailed for 26 weeks after admitting dangerous driving.