Former North Lincolnshire mayor on trial for fraud and theft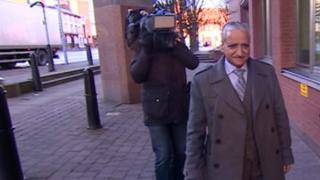 A former mayor of North Lincolnshire has gone on trial on fifteen counts of fraud and theft.
Jawaid Ishaq, 72, of Normanby Road, Scunthorpe, is accused of forging a power of attorney document in order to gain control of shares and a bank account owned by a friend.
Sheffield Crown Court heard that he had been a Labour councillor in Scunthorpe for more than 30 years and had been awarded an MBE.
Mr Ishaq denies all the charges.
Craig Hassall, prosecuting, told the court Mr Ishaq became friends with a man called Ali Salem Sultan, from Yemen, after they attended the same mosque.
The jury was told many years later Mr Sultan, who has since died, decided he would move back to the Yemen. He had various affairs in Scunthorpe that needed looking after, which included two properties in the town.
Before returning home, in 1997, he signed a document granting power of attorney over the two houses to Mr Ishaq, which clearly stated it applied to "no other assets whatsoever", jurors were told.
'No sense'
Police later seized a second hand written power of attorney document from Mr Ishaq's house, which included reference to various bank accounts and shares in addition to the houses, the court heard.
This was dated eight days after the first one and also had a solicitor's stamp on it.
But this stamp had a name the company only adopted eight years later, it was claimed.
Mr Hassall said: "It makes no sense that a second power was granted just days after the first one when he had been so careful to limit the powers to just the two houses.
"The second one is hand-written and there's nothing in it that says a legally qualified person had anything to do with it.
"And the legal stamp must have been applied eight years later."
The trial continues.