Penguins return to The Deep after floor 'slip up'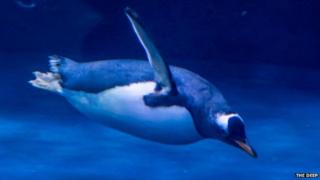 Penguins have returned to a Hull aquarium display after being temporarily removed because the fake ice flooring was too slippery.
The seven Gentoo penguins were removed from The Deep's enclosure in January for cracks to repaired.
But the birds were ''skidding'' on the repainted icy surface when they briefly came back earlier this month.
A special anti-slip coating has been applied to the enclosure to prevent the animals from falling over.
They were put in quarantine while the new surface was recoated at a cost of £20,000.
Colin Brown, chief executive of The Deep, said the penguins had "really settled back in to their enclosure"
'Skidding situation'
"As soon as they went in they were swimming, which was a good sign," he said.
"It wasn't something that occurred to us that penguins might find a surface slippery.
"They have claws and they can grip ice in a way which they can't grip into a white plastic [floor]."
"It's been a difficult project but they're back in time for the half-term holiday."
A spokeswoman for The Deep previously said: ''The penguins were taken out of the display on 6 January to do some routine maintenance work but, when we put them back, the covering did not have enough grip in it for them to stick on to and we had a bit of a skidding situation.
''They were literally in there for 10 minutes and then they were taken out again straight away.''
Gentoos can grow up to 80cm in height and dive to depths of 170m, with swimming speeds of up to 36km/h.
The birds went on display at The Deep in March last year after being born and reared in captivity in Texas.