Murder accused Junaid Hamidi found dead in Hull Prison cell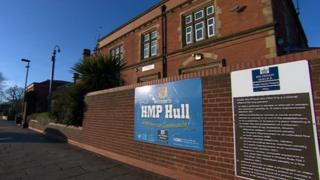 A man accused of murdering his brother has been found dead in his cell at Hull Prison.
Junaid Hamidi, 28, from Clacton-on-Sea, was due to stand trial charged with the murder of Sheikh Zubair Hamidi, 48, at a house in Grimsby last October.
A Prison Service spokesman said Mr Hamidi "was found unresponsive in his cell at Hull Prison at about 05:20 GMT on 25 January."
It is the second death of a prisoner at the jail in the last month.
Last week, John Heald, 59, who was on trial for the murder of Bridlington hotel owner Bei Carter, was found hanged in his cell the day before the jury was due to deliver its verdict.
The details of Mr Hamidi's death have only just been released.