Hull-born actor Sir Tom Courtenay wins top film award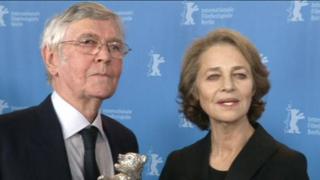 Veteran actor Sir Tom Courtenay has won a prestigious Silver Bear award at the Berlin Film Festival.
Courtenay received the award for best actor for his role in the film 45 Years. His co-star Charlotte Rampling was named best actress.
The 77-year-old actor was born in Hull near the city's fish docks and is president of the Hull City official supporters club.
He said he was happy that he and Rampling had both won.
"I would have been really fed up if it had just been Charlotte - but not as fed up as she would have been if it had just been me," he said.
The film is the story of a couple preparing to celebrate their 45th wedding anniversary, when Courtenay's character receives a letter saying the body of his first love has been discovered.
Courtenay shot to fame in the 1960s in films such as The Loneliness of the Long Distance Runner, Billy Liar and Doctor Zhivago.
He recently returned to East Yorkshire to film the big screen adaption of the classic sitcom Dad's Army, playing the role of L/Cpl Jones.