Gilberdyke waste tip operator admits environmental offences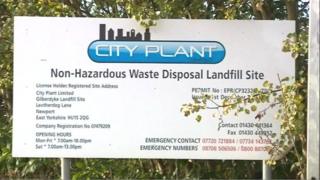 The operator of a landfill site in East Yorkshire has been convicted of five environmental offences after nearby residents complained about the smell.
Waste company City Plant Ltd, which runs the site in Newport near Gilberdyke, was prosecuted by the Environment Agency.
It admitted that it had failed to comply with enforcement notices requiring it to collect landfill gas.
Sentencing was adjourned at Beverley Magistrates' Court until 15 April.
The maximum penalty for each of the five offences, which also include breaching environmental permit rules, is a £50,000 fine.
'Horrendous' odour
Families living near the tip next to the M62 had complained for several years that they had had enough of the "filth, smell and noise" emanating from the site.
In 2012, one resident who lives about half a mile away, told BBC News Online: "The actual smell from the tip is horrendous.
"When you wake up in the morning you can smell this sickly smell, it gets to the back of your throat and makes you want to vomit, it's a really, really bad smell."
Following Tuesday's conviction, Bill Waddington, the lawyer for City Plant Ltd, said: "Unfortunately, as we all know, tips do smell and certainly the smell is nothing like it was, due to improvements that have already been made."
He said that with further improvements to facilities at the site under way "hopefully this will be remedied in the not-too-distant future".
Haltemprice and Howden MP David Davis, who took up the residents' cause, said: "It is a bit of a tragedy that it has to come to us dragging a supposedly reputable company to court to make them face up to their responsibilities, but at least now we have."