David Hockney East Yorkshire landscape hit by fly-tipping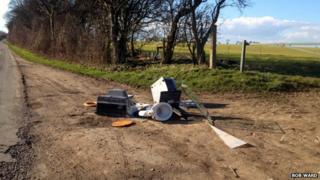 A man who visited East Yorkshire to see the landscape that inspired David Hockney's latest exhibition said he was "utterly devastated" to find the area spoilt by fly-tipping.
Bob Ward drove to Woldgate after seeing the exhibition in Saltaire.
He claimed to have found a television, a toilet and other rubbish dumped by the side of the road.
The council admitted fly-tipping was "a problem in this area" and said it would investigate.
The area has featured many times in Hockney's work over the years.
The latest exhibition at Salt's Mill features 33 scenes of spring arriving in the Yorkshire Wolds, drawn by the artist on a tablet computer.
Mr Ward, who lives in Leeds, said he and his wife Doreen decided to drive to the area on Saturday.
"The first few miles of the road, from Bridlington travelling in the direction of Kilham, were utterly despoiled with fly-tipped builders' rubbish, old TV sets, electric fans, and large quantities of other litter thrown from cars," he said.
"A particularly bad area was in the vicinity of a caravan park on the south side of the road, near to Bridlington.
"I can only assume that the road was not in this state when Mr Hockney did his works in 2011."
East Riding of Yorkshire Council said it would "investigate the location" on Tuesday.
In a statement, the authority said: "Fly-tipping is a problem in this area, blighting the countryside and costing the authority money.
"The site will be cleared as soon as possible, but we must stress that clearing the site will happen only after it has been thoroughly investigated for any evidence as to the source of the fly-tipping."