Model doused in Hull bleach attack as 'revenge'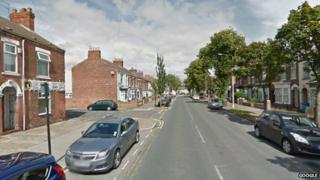 An 18-year-old woman threw bleach into the face of an aspiring teenage model because she blamed her for being excluded from college, a court heard.
Rebecca Morris, of Hilary Grove, Hull, attacked Victoria Smith, 17, at the junction of Albert Avenue and Cobden Street, in Hull, on 20 August.
Hull Crown Court heard Morris, who admitted the attack, shouted "that is for getting me kicked out of college", as she hurled the bleach at Miss Smith.
Morris will be sentenced on 2 March.
'Burn and disfigure'
Prosecutor Stephen Welch said there had been a "degree of ill-feeling" between the pair prior to the incident.
"Victoria Smith had complained to the college of harassment and bullying from Rebecca Morris," he said.
Morris knew Miss Smith was a model and the attack was designed to "burn and disfigure", he said.
The court heard Miss Smith was treated at Hull Royal Infirmary after swallowing some of the bleach. Some of the liquid also went in her eyes.
Mr Welch said that Miss Smith went "temporarily blind for a moment" and her hair turned green. She has since shaved off her hair and now wears a wig.
Mr Welch said Miss Smith had given up modelling as a result of the attack, having "lost her confidence".
Miss Smith also attempted to take her own life by taking an overdose in October, he said.
Judge David Tremberg told Morris in January that she should prepare for the "very real possibility of a custodial sentence".
Morris, who has admitted unlawfully and maliciously casting or throwing a corrosive fluid with intent to cause harm, was bailed ahead of her next appearance.